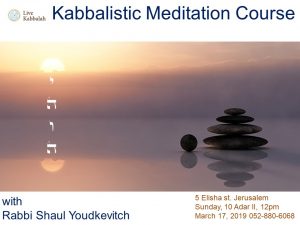 Jewish meditation is called
Kavana
h. This is a wisdom that includes thousands of rituals, techniques and met
hod
s that have been used for thousands of years in order to achieve higher spiritual levels and an elevated connection to the Creator and His Light.
The course reviews the ten main met
hod
s known to Judaism according to the wisdom of Kabbalah and provides exerc
ises and training to implement these methods in the student's life for the purpose of improvement and progress.
This course is based on the Zohar, the writings of the Ari and Rabbi Avraham Abulafia.
The course includes 10 sessions and guided meditation (15-20 minutes each).
The course will be recorded and uploaded to the site for further study, for people that missed classes and for online study.
For more details and registration: 052-880-6068 or [email protected]
Course Curriculum
Lesson 1:
What is meditation, Kavanah? Why is it necessary?
Lesson 2:
A review of the main types of meditation in Kabbalistic tradition A – the Hebrew letters, the names of the CreatorLesson 3:
A review of the main types of meditation in Kabbalistic tradition B – Mandala's and YihudimLesson 4:
A review of the main meditation types in Kabbalistic tradition C – different meditative statesLesson 5:
Mind Over Matter A
Lesson 6:
Mind Over Matter B – Body and Health
Lesson 7:
Mind Over Matter C – Meditations for Sustenance
Lesson 8:
Mind Over Matter D – Controlling Emotions
Lesson 9:
Meditations and Prayer A – The Ana BeKho'ah – The Name of 42 Letters
Lesson 10:
Meditations and Prayer B – Shema Yisrael, Secrets for Health and for Protection
The Course started on March 17th. The lessons are recorded and uploaded to the course' site. You can enroll to the course online: