When people come to Jerusalem they want their soul to be touched.
Looking for a place for eating in Jerusalem on Shabbat? Looking for a special experience while spending Shabbat in Jerusalem? Kosher restaurants in Jerusalem are closed on Shabbat; dining in a hotel in Jerusalem on Shabbat, looks, sometimes, like eating in any hotel back at home.
Join us for a magical authentic Shabbat experience in our beautiful home just minutes from Jaffa Gate and Mamilla; warm hospitality, delicious, homemade food, friendly faces and a lot of love.
For Rosh HaShanah & Yom Kippur in front of The Temple Mt. and The Western Wall click here.
For Sukkot, Holiday and/or Shabbat Meals in the Sukkah, registration is the same as for Shabbat Meals – click here.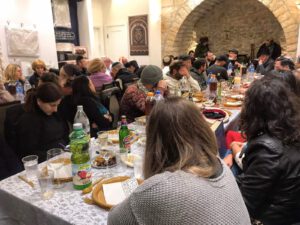 Sukkot in Jerusalem (walking distance from The Wall)